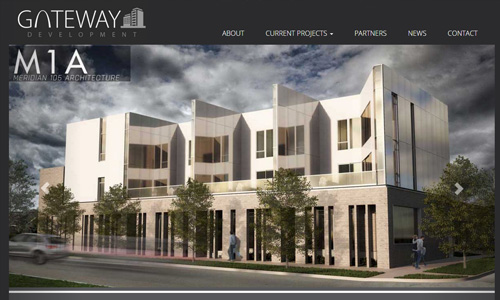 Gateway Development
I wanted to shoot you a note and let you know how happy I am with how the website came out. It really looks great. Emily on your team was great, I had tons of questions and emails and she answered them all in extremely timely fashion. Not to mention I probably made 10 changes throughout the build. I know you mentioned I was one of the least expensive builds you guys had done and it sure did not feel that way based on the customer service I received from Emily and the rest of your team. Thanks again.
- Brooks Ferring, Gateway Development

Fusion Home Care
I just wanted to take a minute and let you know what an amazing experience it has been to work with your team on my company website design. Being new to this process, I wasn't sure what to expect but I have to say every person I have worked with in your company has been so professional and they all go above and beyond to help me with anything I have needed along the way. You should be really proud of all of them. In a time where customer service has almost disappeared they seem to get it right every time! Also, I can't begin to finish this email without mentioning specifically Erin, who has been my main contact throughout his process. She has been so patient and understanding with me throughout and I feel very fortunate to have her assigned to my case. If I am able to build a team half as good as the one you have I have no doubt things are going to go really well for us in the future! Anyway, I just wanted all of you to know what a pleasure it has been to work with you and I look forward to the continued relationship in the future. I will not hesitate to recommend your services to anyone who will listen!
- Adam Dodd, Fusion Home Care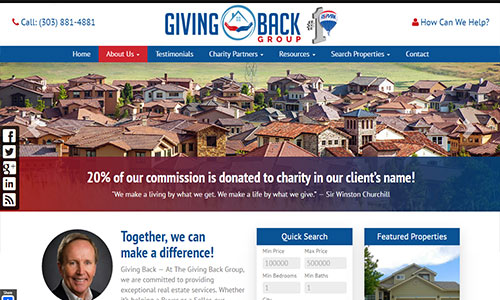 Giving Back Group
The team at Denver Website Design is fantastic. They were very helpful through the development process and very responsive to my requests. I shopped around before making a decision and it wasn't close. The value and quality of their work made it an easy decision. I highly recommend that any small business looking for a website developer talk to Mark and his team at Denver Website Design. They are great!
- Rick Avery, Giving Back Group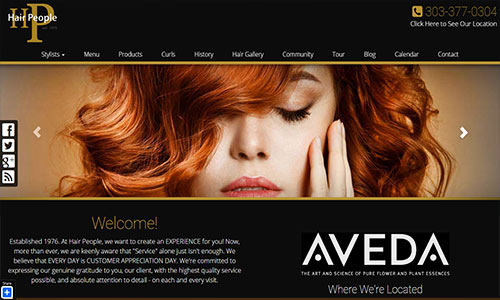 Hair People
Jared and Mark did a great job updating my website for my salon. I appreciated their patience and professionalism.
- Maree Chavez, Hair People

Natural Stone Sales
We just signed up with Denver Website Designs and I am already blown away with the customer service, personal attention given to us, and excellence in their knowledge of website and marketing needs. Yesterday Denver Website Designs came to our business and spent over two hours with us taking professional pictures for our new website they are designing. I compared Denver Website Designs to other companies and I found that there was no other company even comparable to what they offer. They are worth double the price what they charge! Thank you Denver Website Designs!!! I'm so glad that we found you! Everyone at Natural Stone Sales thanks you!
I can't say enough good things about Denver Website Designs. Jared and the rest of the Denver Website Designs team are unbelievable skilled in website design. They went above and beyond for us! An absolute must for anyone or small business needing website design services, marketing and professional pictures. The price for everything they provide is shockingly cheap.
- Danielle Slater, Natural Stone Sales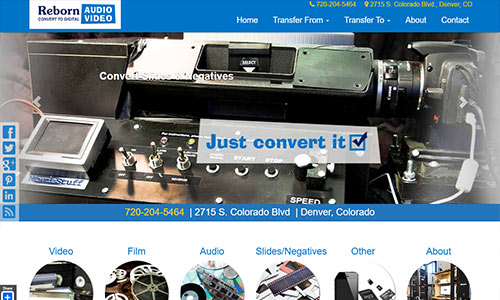 Reborn Audio Video
My brand new web site went from, well, brand new, to ranked on the first page of google search for all of my major search keywords. Some of my lower keywords are already on the top half of the first page and a couple are in the top two. All this in less than 90 days.
- Jamey Nordby, Reborn Audio Video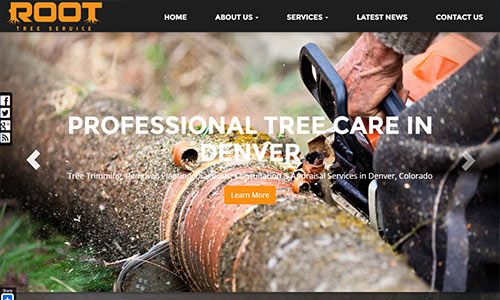 Root Tree Service
Erin and Mark are always on top of everything! Technology can be difficult but these guys take it on easily. I always appreciate their help and refreshing website design work. I now have two of their websites and will be creating a third very shortly:) Thanks again guys!
- Brendan Zarnoch, Root Tree Service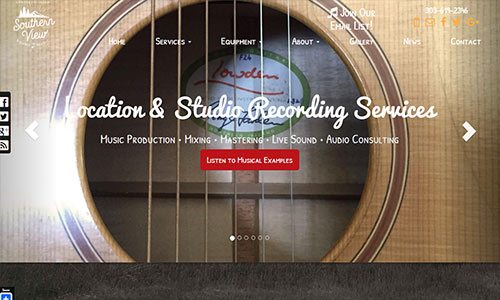 Southern View Sound
Mark, Emily and Erin have done me a real solid developing and tweaking my new website, Southern View Sound and Music. They have responded to everything I have requested and at a very reasonable price. I would recommend them to anyone looking to develop or upgrade their website. I look forward to a continuing relationship with Denver Website Designs. I knew I could depend on them going into this new venture. The site has features that I have yet to make use of because they have built in so many great ways of communicating through the site. Well done!
- Paul Vastola, Southern View Sound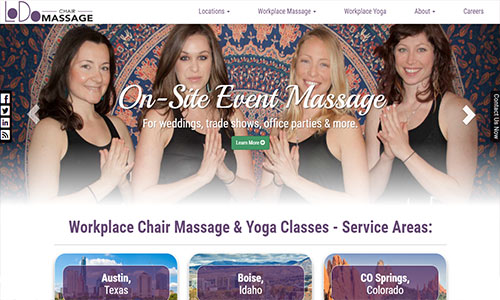 LoDo Massage Studio
Well done! I could not be more pleased. I own LoDo Massage, LLC, based out of Denver and in 10 cities, I needed a large website with a CRM attached to it. For the past 8 years I have used part timers and was reasonably happy. Mark's original proposal was spot on. I had multiple others from other companies but he was the only one that understood EXACTLY what I needed. From the very start til we went online, Jared, my assigned contact was responsive, creative and did a fantastic job. The site was cut-over the exact day they stated and they took care of all of the back-end BS as well with GoDaddy and SquareSpace. My website consists of 60 total pages and multiple domains so this was not a do it yourself task. Extremely happy and highly recommended!!
- Ed Rich, LoDo Massage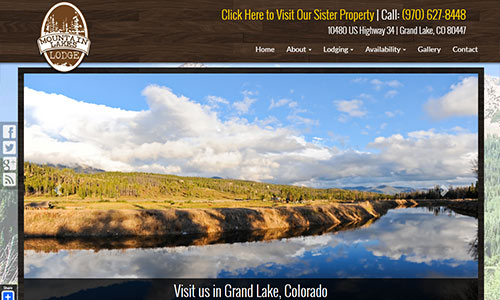 Mountain Lakes Lodge
Denver Website Design created two websites for our Grand Lake, CO lodging properties (Mountain Lakes Lodge and North Shore Resort) about 3 years ago. The sites are easy for our customers to find and navigate. They're reliable and easy for us to make changes on. We appreciate the quick response and resolutions by the customer support.
- Edie Dafoe, Mountain Lakes Lodge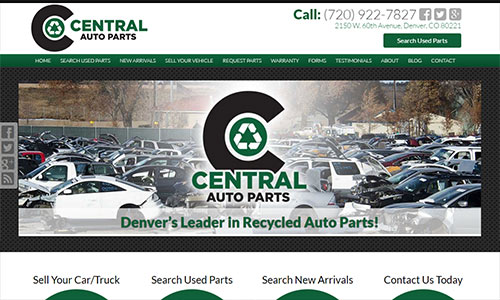 Central Auto Parts
Mark and DWD have been great in developing, maintaining, and optimizing two websites for our company. They beat the competitions pricing for design and maintenance, and the tools that are built into the websites for SEO have been effective thus far as well. I will definitely turn to these guys for my future website development needs.
- Ben Silver, Central Auto Parts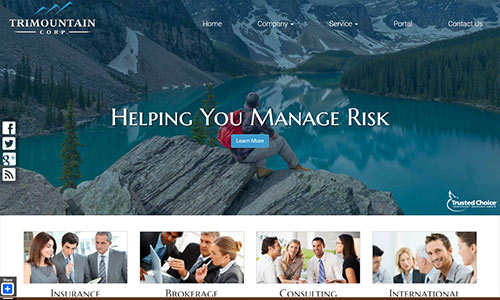 Tri Mountain Corp
We have had a great experience with Denver Website Design and have received overwhelmingly positive feedback on our website. When an opportunity arises to improve our site content, design or functionality they are quick to respond and always provide superior customer service.
- Chris Eldredge, Tri Mountain Corp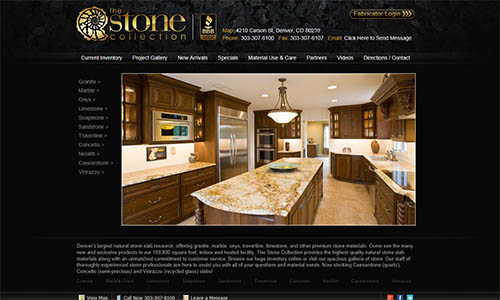 The Stone Collection
Denver Website Designs has been fantastic to work with! Dealing with a local company owned and operated by real people is a breath of fresh air. They actually answer the phone, return emails and treat you like an old friend. Kristin and Jared are the best, their service is unparalleled.
- Joe Vinci, The Stone Collection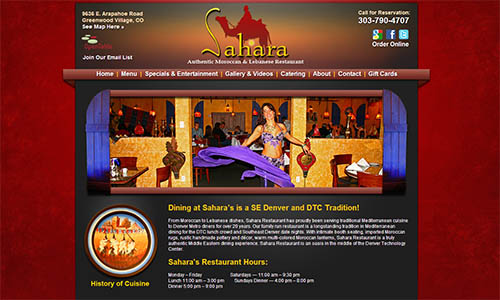 Sahara Restaurant
A quick note to say that my client, The Sahara Restaurant in Greenwood Village, has experienced a 14% increase in business due to the new website that your web designers built for them. Its been a combination of the Search Engine Optimization as well as the excellent food photography and overall aesthetics of the site. I will be recommending Denver Website Designs to all of my clients as I engage them to help improve their business. Thank you Denver Website Designs.
Richard F. Weil, Senior Consultant - National Restaurant Consultants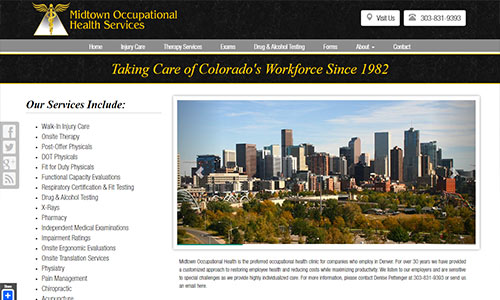 Midtown Occupational Health
I want to thank Denver Website Designs for our new website. It was such a pleasure to work with Jared and Rebekah, they are each attentive, knowledgeable, patient and good listeners. This is the first website I've had a role in creating and find it refreshing to work with a local company that advises and listens. Thanks again!
Denise Pettenger - Director of Business Development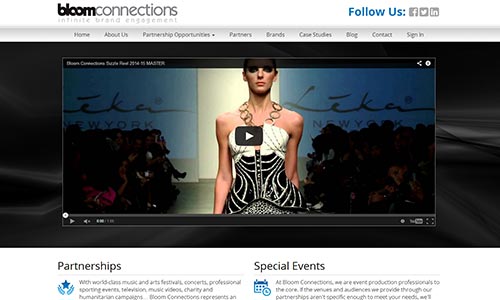 Bloom Connections
Mark and the knowledgable, highly skilled staff at www.DenverWebsiteDesigns.com leave no room for guessing, are super attentive and produced my site exactly how I envisioned, in a timely manner. They are friendly, understand every need as soon as I mention it and their reaction time for edits and updates is almost immediate. 350+ Colorado businesses can't be wrong. I highly recommend DWD for your web and SEO solutions.
Greg Bloom - President & CEO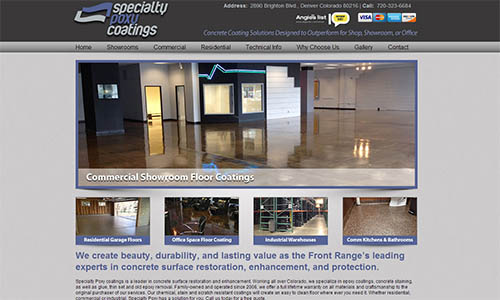 Specialty Poxy Coatings
We had a website built for us years ago that we thought was sufficient. Then we heard about Denver Website Designs, met with them and realized that our website was not meeting its full potential nor its maximum reach to our desired customer base.
After they revamped our website and gave us the tools to enhance our SEO, we are now crushing our competition on search engines in almost all search categories. If you want bang for your buck, go with Denver Website Designs.
Jonathan Dismuke - Co-Owner, Specialty Poxy Coatings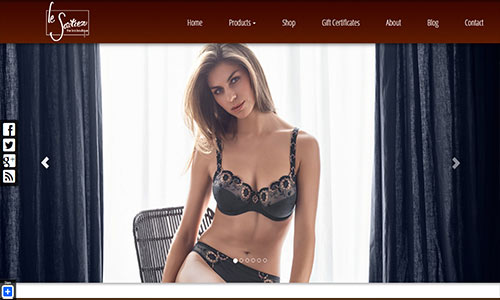 Le Soutien
Kristin, Jared and the rest of the staff at Denver Website Designs has been a tremendous help in our efforts to market our products. They are always very helpful and willing to go the extra step. They understand our needs and designed a webpage for us that has attracted customers and drawn praise. We love our website so much. You guys have done a beautiful job for us.
Le Soutien , Cherry Creek North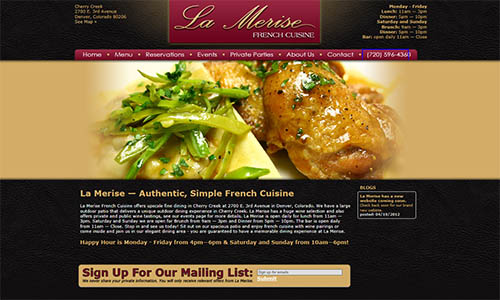 La Merise
Kristin & Denver Website Designs, Thank you for all your hard work. It has been pleasure working with you. You have done an amazing job for us!
La Merise Restaurant, Cherry Creek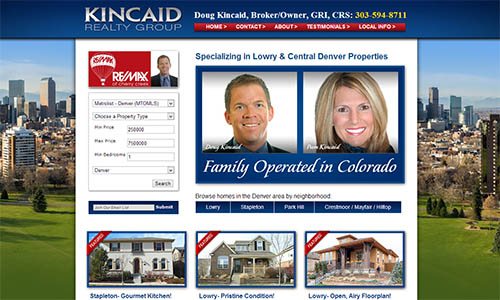 Kincaid Realty
Your company rocks! Kristin was totally professional and service friendly last week, and this whole experience has been awesome! We are on the 1st page for thousands of searches per month and getting more leads than ever.
Thank you sooooo much for all your hard work and making it special for me and my team!
Best regards, Doug Kincaid - Kincaid Realty Group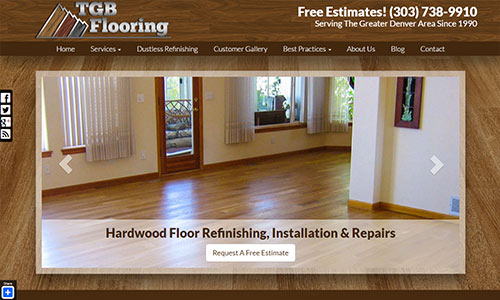 TGB Flooring
Hello, my name is Tim Daly, I own and operate a small hardwood flooring company here in the Denver Metro area.
I hired Denver Website Designs to build me a new website a year ago as my old web site was, well, old! I did a terrible job of updating it, I just kind of had it built and let it go for years. The great folks at DWD helped me to better understand web sites, how they work, and the importance of keeping them updated. I am very limited in my skills with technology and they made it easy and quite painless, they helped me with all my fears of going through this process. My new web site is awesome and I still get compliments every week on how nice of a site it is! People tell me it is appealing, functional, easy to navigate, and it is always on the first page of the popular search engines under quite a few different key words. The great people at DWD have made it so easy to change or update and add photos on the fly. They are always there for me and that is exactly what I needed! I strongly support this company and recommend them in the highest regard.
Sincerely, Tim Daly - TGB Flooring Inc.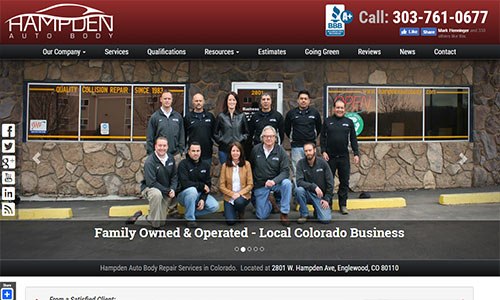 Hampden Auto Body
To whom it may concern:
When I wanted to revamp our existing website, I knew it was going to be a major undertaking. I thought it would be impossible to get my personal views and the way I wanted it to look correct unless I did it myself. Not only was I wrong, but I think I overvalued my own judgment and expertise. Denver Website Designs at first contact made me feel great about having someone else design it. Also they made to process seamless and I had input and continue to have input on how it looks and the results have been nothing short of amazing.
I recommend Denver Website Designs to anyone who needs help with their website, needs a new site or wants help to improve SEO or rankings on the web. They have done a tremendous job and I enjoy working with them on site maintenance and new improvements we make to the site.
- Hampden Auto Body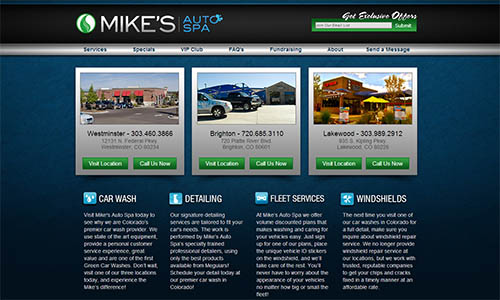 Mike's Auto Spa
Jared, Kristin & Rebekah, Just a note to say thanks for all your hard work on the Mike's Auto Spa website. It looks great and we Really appreciate it! And thank you for putting up with all my questions when I came on board so late in the project. I am really thankful for all of your help!
Veronica Solarz, Marketing Manager - Mike's Auto Spa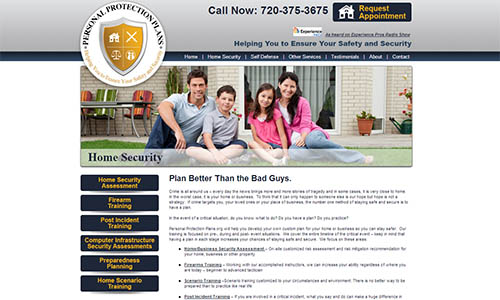 Personal Protection Plans
We want to tell you how pleased we are with a) the website itself, b) your work to helping us resolving the branding/url questions and c) the support. Your team has done an outstanding job including Kristin, Alex and, of course you. Thanks very much for the continued support and I will continue to route people to you going forward.
Mike and Marijo - www.securitycolorado.net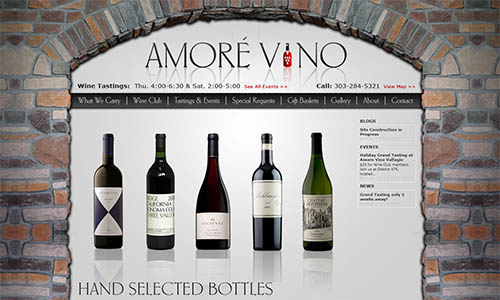 Amore Vino
In addition to the website design and functionality, which has been great, the customer service is outstanding. Anytime we have had an issue, response time has been immediate. All of the folks at Denver Website Designs are great and we highly recommend their services!
Sincerely, Travis & Vickie Riddle - Amore Vino @ The Vallagio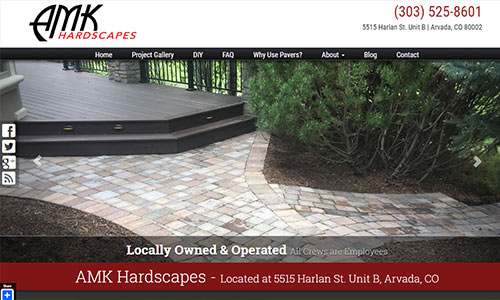 AMK Hardscapes
Just a quick note to say that due to AMK Hardscapes showing up for just about everything related to pavers and hardscapes in Denver on Google, I was contacted by an individual that had just purchased a ranch and I ended up winning a bid for over $71,000. I want to thank you guys as this project made my year.... so far! Thanks for your awesome solutions and continued support,
Sincerely , Mike Jarmillo, Owner of AMK Hardscapes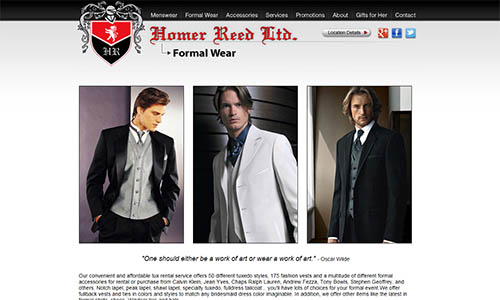 Homer Reed
Denver Website Designs helped us upgrade our website and added increased exposure via social media resulting in new customers. Our account representative, Kristin, provided excellent service and valuable input on layout and design. We look forward to an ongoing relationship.
Mark Reed, Owner, Homer Reed Ltd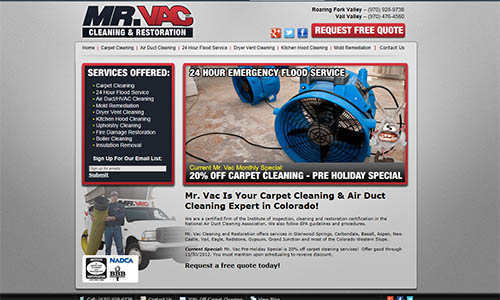 Mr. Vac
Denver Website Designs has helped us rank organically on the first page of Google for all the search terms and services we offer at Mr. Vac! Ever since we started working with Denver Website Designs our site traffic has been way up, and we have a bunch of quote requestes coming in daily! If you are in the market for a new website and want increase your web presence and search engine optimization, then you should give these guys a call!
Mr. Vac Cleaning & Restoration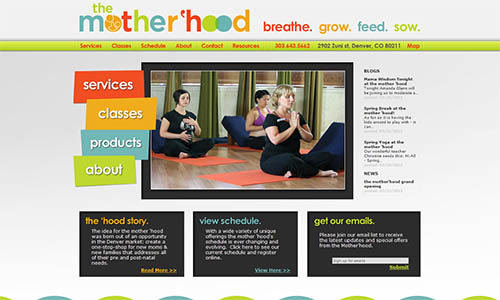 the mama'hood
Jared is always so quick to respond to all of our requests and changes to our site. We are so impressed with the blog integration, SEO tools and customer service from Denver Website Designs.
Allison Schneider, the mama'hood, Denver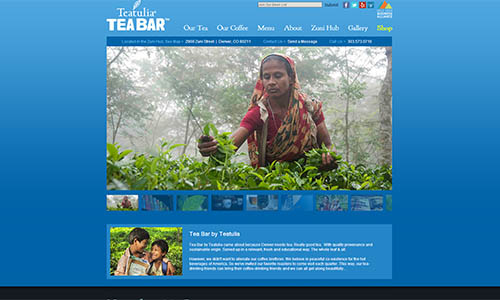 Tea Bar by Teatulia
DenverWebsiteDesigns.com has been fantastic for our new companies! Easy to work with, clean websites, responsive team and great back-end SEO functionality. I recommend them to everyone looking for a new site!
Tea Bar by Teatulia, Zuni Hub, Highlands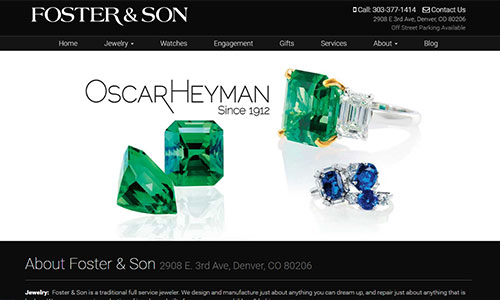 Foster & Son Jewelers
We are a fine jewelry store located in Cherry Creek North in Denver, Colorado and have been with Denver Website Designs for a little over a year. We truly enjoy the benefits we have come to receive from building a new website- We use our blog to communicate with our customers about new items coming in weekly- this has also helped us to show up #1 on Google for tons of local searches! If someone is looking for fine jewelers or watches or rings in our area online, we are showing up – and business has been great as a result. We can't thank Denver Website Designs and their team enough.
Foster & Son Fine Jewelers, Cherry Creek North Denver, CO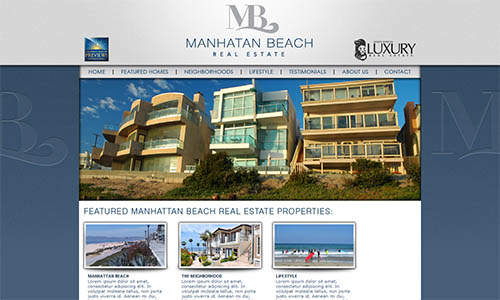 Malibu Luxury Real Estate
Hey, just wanted to give you a heads up that the Malibu Luxury Real Estate website is on page 1 of Google when you search "Malibu Beach Houses for Sale" and "Malibu Luxury Real Estate." We even got 80 visits last week to the site that I didn't pay for with Google AdWords. I also received an inquiry from a celebrity and he is interested in a 10m featured beach house we posted on the site. I am so fired up on the success of this website, it is starting to make an impact in my business and career. Thank you so much for all your efforts, they are greatly appreciated!!
Best, Mitch Hagerman, Broker Associate - MBA Malibu Luxury Real Estate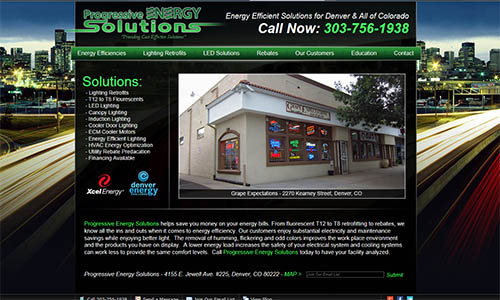 Progressive Energy Solutions
Just wanted to share some of our thoughts with you regarding your company. When we first decided to build a website (make that hire someone to build a website), we interviewed three different companies, knowing that the growth of our company could be greatly enhanced by the right "feel" and "look" of the web design. The first thing I noticed was the overall look of the sites you had designed for others shown on your website. Hands down, you guys owned the best selection of designs of the three. All of yours looked professional and polished, while some other company's sites barely looked better than what I might design myself! (keeping in mind that I can't draw a stickman).
So you designed a site for me that is polished and professional, but that doesn't matter unless people are going to it! Most importantly, you taught us how to get our company on the first page when someone looked up anything having to do with the services we offer. And it happened within four months from the time we first spoke! That's the real proof of your value.
Lastly, you've been exceptionally supportive and helpful whenever I've had an idea or a new item to put on the website. And you've given us many ideas that we certainly wouldn't have thought of on our own. We are, and will remain to be, a loyal customer of Denver Website Designs!
Randy – Progressive Energy Solutions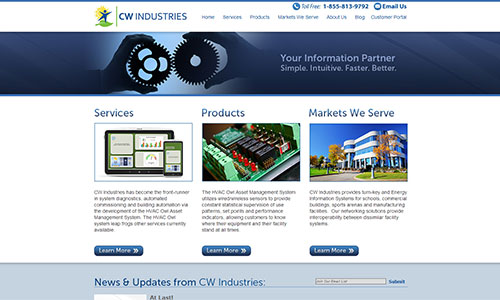 CW Industries
I want to give a big Thank You to Kristin and Denver Website Designs. They helped us create our new website, which was long overdue. The work they did on the website exceeded all expectations. Kristin and Mark sat down with us from the beginning and helped us understand what we needed to do to optimize our web searches, and gave us recommendations on designs, colors, etc. One thing I appreciated was the honesty of everyone we worked with at Denver Website Designs. If there was something we asked for that they didn't think would work for one reason or another, they were all honest about it, and did a great job of explaining why it wasn't ideal and offered alternatives. I worked with Kristin the most, and she made the process seamless and easy. She was patient and worked with us through all of our change requests, page changes, etc.
Stacey, CW Industries